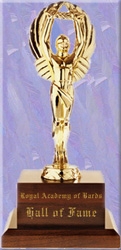 Academy Author Index
Last Updated: 4/21/2017

2012 Author Hall of Fame
Author
2013 Author Hall of Fame
Story - The Mel/Janice series



---
The Amulet

Xena and Gabrielle are enlisted by the goddess Artemis to join an old acquaintance of Xena's on a mission to unravel a dark mystery involving the missing remnants of the Amazon nation. Along the way, Xena is assailed by deep remorse and self-doubt, Gabrielle suddenly vanishes, and her old friend may offer the key to the puzzles which plague her.
Angelique

Laurie, aide to a U.S. senator, is suddenly thrust into the world of international espionage when she is marked for assassination. Rescued by a mysterious figure whom she only knows as Angelique, she must attempt to resolve the riddles of why she's a target and what motivates her strange guardian angel to protect her. Could it be... love?
A Bad Day for Sarah [April Fools Whatever 2017]
The End Of Our Journey

In this "what-if?" story (What if Xena had lived? What might their end have been?), Xena and Gabrielle find themselves growing old and seek to settle down in obscurity and quiet, desperate for just a little peace. Xena, however, still has a Roman price on her head. They are betrayed into Roman hands, only to be rescued by a most unlikely friend and ally, one who sees them to 'the end of their journey'.
After Xena's untimely death in Japan, Gabrielle has returned to Potidaea, wallowing in deep grief and strong drink. Ares, noting her vulnerability, makes her an offer of power that she is sorely tempted to accept, until Xena's spirit appears to her and they fashion a desperate plan to attempt Ares' imprisonment and Xena's own return to the mortal realm. Its success depends upon Gabrielle, however. In her current state of mind, will she be able to pull it off?
Xena and Gabrielle, shipwrecked and near death, are plucked from the sea and restored to health by the crew of a sleek ship. They join the odd collection of mariners (including a Greek captain, a Thracian Amazon and an Egyptian mystic) on a desperate and bloody mission to 'right a wrong' and along the journey find themselves bound more closely than ever, as Gabrielle is forced to confront and vanquish the last of the demons of memory harbored in her deepest conscience.
On a visit to Amphipolis, Gabrielle forces Xena to confront the two demons she fears most: explaining to her mother exactly what the relationship between her and Gabrielle is, and working for an evening in her mom's tavern. As the evening degenerates into one hilarious fiasco after another, Xena learns a newfound respect for her mother, and Gabrielle gets in touch with her 'dark side' as she discovers the answer to her question about tavern-keeping: "How hard can it be?"
In Flander's Fields, Revisited [Academy Halloween 2016]
Can an android be endowed with a soul? In a North American city a couple of centuries in the future,psychologist Amanda Livingston is hired to do just that, and discovers both the professional challenge and the love of her life.
Master Of The Sword

Xena and Gabrielle, on a visit to Potidaea, find Lila immersed in a dangerous liaison which draws them into politics and intrigue and may prove deadly not only to Gabrielle and Lila, but to Xena's redemption from her own dark past.
Mission Ridiculous [Academy Must-Xe TV Challenge 2003]
Murder in the Old Town Cemetery [Academy Halloween 2014]
In this sci-fi original story, Julie endures the psychic tragedy of war, and discovers the indomitable ability of the human spirit to endure desolation and blossom anew when watered with hope and love.
The Promise of the Rose [Academy Valetine 2016]
The Resurrection Of Molly Footes
Shy, introverted Molly decides that her life is out of balance and calls upon her "spirit guide" for help to set things straight. That's when the chaos really begins.
A Triumph Of Love

Orbiting their distant home-planet, space station-keeper Sara and shuttle pilot Jeni are in love. The kicker is that, in their country, their love is forbidden three ways: race, religion, and gender. What will they do when they're discovered and face the prospect of arrest?
At nineteen, young Gabrielle is wild, defiant, willful, profane -- and sold into slavery. Brutalized and starving, she's bought by a vagabond warrior, and she begins the journey of a lifetime.
Star-Crossed Lovers [Academy Valentines 2015]
The Strange Case of Charity Bartlett [Academy Halloween 2015]
A mysterious, beautiful woman with an astounding secret helps Van Helsing chase vampires in Victorian England.
Was That a Tooth Fairy, or Just Bad Acid?
Paperback writer Alice has a totally bizarre experience late one night, after her daughter loses a tooth and wishes for a visit from the tooth fairy.
The Vampire Diary of Courtney Van Camp
I'm Courtney, and here's my diary. Read it and weep. And maybe you'll laugh, too. Or maybe you'll just say, "WTF?" And after you read it, maybe you won't want to get bitten by a vampire.
You Have Mail

Sometimes, a great treasure lies hidden, patiently waiting to be noticed. For Charity, it was in the words, "You have mail." A little love story... or maybe just a story about love.
Mel And Janice Series