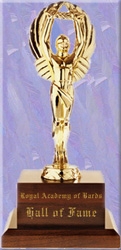 Academy Author Index
Last Updated: 11/4/2005





2007 Hall of Fame
Story - Kara's Moon



---
The Eve [Academy Halloween 2004]
Kara's Moon

Ginny Harrison wasn't ready for marriage so she left Seattle and Phil behind to live with her grandmother in the Wenatchee mountains of Washington, hoping to figure out what was missing in her relationship with Phil. There, she meets up-and-coming artist Kara Morgan, who is renting a cabin for the summer. An unlikely friendship develops between the two. Kara, a loner by nature, intends to spend the summer sketching and painting. Instead, she finds herself increasingly attracted to the younger woman. Ginny, too, is drawn to the quiet artist and finds her thoughts moving in an entirely different direction than friendship. She finally finds what's been missing in her life.
Part 1 Part 2 Part 3 Part 4 Part 5 Part 6 Part 7
Romance... Or Something Like It [Academy Valentine 2003]

Two women are coerced by friends to help them score a date on Valentine's Day. Dana asks Jamie, an accountant to help her make a former girlfriend, Tess jealous. Tess has coerced her lawyer friend Kate to come along in her quest to find a date. Neither Jamie nor Kate are into Valentine's day until they meet.
Zeiko Place [Academy Halloween 2005]
Available for purchase: