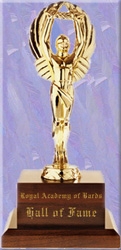 Academy Author Index
Last Updated: 11/3/2005



2006 Hall of Fame
Author
Story - Iditarod

---
Blood Benediction

Ever wanna meet a vampire?! Redhawk heats up the dancefloor with her submission <g> to the 101 Aurellian Nights series
In a conquered kingdom, a princess escapes and joins a travelling troupe.
CyberEpic

The meeting of a dark young nomad leader and a foreign courier set against the backdrop of the future Second American Civil War.
Coming Home

A PWP sequel to CyperEpic and the pair are celebrating Dusky's birthday.
Divine Desecration [Academy Halloween 2001]

What seems to be a walk in the woods turns into a surreal nightmare.
A tropical holiday brings more than adventure.
A story inspired to the song's lyrics.
Iditarod [Now published as Broken Trails].
A travel journalist decides to find out just what is involved in preparing and participating in one of the most grueling dogsled races, the Iditarod in Alaska. She ends up training with a top musher and together they embark not only on a journey of Alaska but also the heart and spirit.
Need A Lift? [Academy Valentine 2005]
A fantasy tale about when life is based upon honor; which is more important saving face or your heart? This is the lesson confronting Azrael when she finds her love and her honor in direct conflict with each other.
Only One

An immortal Xena, living in Portland, Ore. comes upon a young homeless woman, Rickie, who seems to embody the spirit of her lost love.
Part 1 Part 2 Part 3 Part 4 Part 5 Part 6 Part 7 Part 8 Part 9
Oktober Fest

Off for a vacation in beautiful Europe, Xena and her young lover, Rickie Gardner, are in for a sinister surprise. Sequel to Only One.
Part 1 Part 2 Part 3 Part 4 Part 5 Part 6 Part 7 Part 8 Part 9
What happens when you answer a personal ad.
A PWP about a ghost who interferes in a romance.
A dark tale of the rise and fall of a heavy metal musician.
When In Rome

...Do as the Romans. Enjoy a span of time in the notorious bathhouses with a beautiful woman.
Wyoming

A short (but long enough to call for a cold shower <g>) story by Redhawk. Emotions collide after an event occurs to throw the two women together.
Slow Movin' Series
About a musician who is laid back. Inspired by the song 'Mary Dolan'.
Followup to Slow Movin'.
3rd in the series.
4th in the series.
Slow Valentine [Academy Valentines 2004]

5th in the series.
6th in the series.