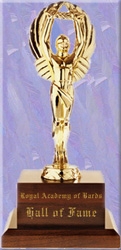 Academy Author Index
Last Updated: 12/5/2011


2007 Hall of Fame
Author
Stories - Extension 147, Skarz
2008 Hall of Fame
Story - Extended Intentions


---
Clear Conscience [Incomplete]
Former World Kumite Karate Champion and zoologist Pax Kattapolous Baldwin returns home after more than twenty years of family rejection to face a brother she detests and to forget the nightmares of a tournament that nearly took her life. She meets Teela Pheamster, her mother's Social Worker in a long term care facility. Teela is a woman torn between the responsibilities of her past and the desire for a future with Pax. Before their relationship can develop, each must contend with family, friends, and jilted lovers.
Part 1 Part 2 Part 3 Part 4 Part 5 Part 6 Part 7 Part 8
Sequel to Extension 147. Teela Pheamster turned down her chance at love with Pax and retreated into herself. On her journey back, she's realized a number of things, the most important is that she wants Pax back, and never should have let her go. Pax Baldwin is back at work, and determined to carry on alone. However, the unexpected has come looking for Pax. She finds herself torn between moving on with a new lover and finding a way back to Teela, all while a stranger lurks in darkness waiting to strike.
Part 1 Part 2 Part 3 Part 4 Part 5 Part 6 Part 7 Part 8 Part 9
Devon Walsh is a self-sufficient business owner confined by self-recrimination, an existence she contends is her only option. Victoria Newcombe believes otherwise. It is up to Victoria to rescue Devon, to release her from the torment and show her life beyond the scars.